So, not taken photos of my few classic chaos dwarves yet. but met my main goal, 10 new chaos dwarf blunderbusseers, converted (minute work it may be) and painted up, heck even did a little touching up and started basing the previously done ten, so thats 20 at a decent tabletop level and with first layer of basing done... even if basing = painting the texture paint astrogranite grey on them... will drybrush/highlight it soon enough...
sooo, photos of how they've finished off (as saturday i was ill and nought got done)
(click to enlarge image)
close up of finished job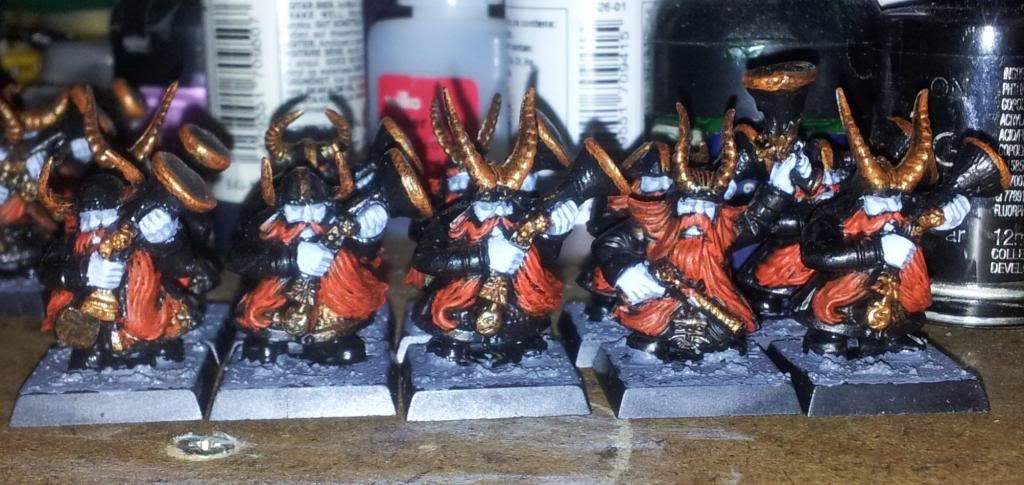 And how they look with the rest of the unit
Well, feeling kind of smily now they're done (to this stage) but miffed that I've run out of the beastman horns I was using, so cannot finish up converting more warriors yet... (there is a seller of just those bits in america definitely, but for the sake of shiping costs think I'll have a look around british bits suppliers...)
not sure when they'll see table as I'm focussing (ha!) more on my empire for fantasy stuff at moment. but have learnt that setting goals to a deadline may be the way to go get things done, plus give more reason to do blog posts documenting progress...

To Chico, who set this challenge of stuntie week (and likely other such things in the coming weeks) thank you for setting such a simple, yet cool idea in motion (the random challenges) I hope to join in on more of them =)
for now, ciao!